Take your business to the next level !
AIR EXPO provide the perfect platform for companies to showcase their products, services, and capabilities to a targeted audience of aviation industry professionals. With attendees ranging from aircraft operators to manufacturers, financiers to service providers, our events offer unparalleled opportunities to connect with decision makers and industry influencers.
Whether you're a small start-up looking to make a big impression, or a large corporation looking to solidify your position in the industry, our events can help you achieve your goals. 
With a range of exhibition and sponsorship packages available, you can tailor your investment to suit your specific needs and maximize your return on investment.
By promoting your company at AIR EXPO, you'll be putting your organization in front of thousands of potential customers and partners, while also gaining valuable exposure in the global business aviation community. 
Don't miss out on this opportunity to take your business to the next level – contact us today to learn more about our sponsorship opportunities and how we can help you achieve your goals in the aviation industry.
Air Expo India is the Asia's biggest general & business aviation exhibition!
India is the 3rd largest aviation market currently and expected to be the largest aviation market by 2030 by passenger traffic, as per IATA.
Air Expo India is the biggest and most productive event of the year for General & Business Aviation !
Located between the Middle East and the Far East, the Indian subcontinent has strategic significance for trade and business. The aviation industry is poised to play a major role in the nation's growing economy.
According to The Economist Intelligence Unit, India might host 411,000 millionaires by 2030, making the nation one of the world's fastest growing markets.
Exhibiting at the show starts from just $ 2,450 for shell scheme options.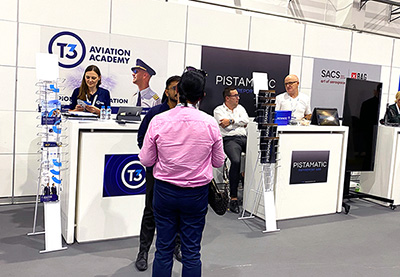 All-inclusive-stand packages
Shell Scheme booths are a simple and cost-effective solution. Several sizes are available from 6 sqm to 18 sqm. Each booth is equipped with furniture and electrical supply.
If you prefer to design and build your own stand using a dedicated contractor, you can simply purchase raw space within the hall, starting from spaces of 24 sqm.
Self build stand space
Best option for stand designer for an innovative stand design with raw space, starting from 24 sqm, or premium space « island 4 open sides », starting from 36 sqm.
Static Aircraft Display
All aircraft are displayed in front of the exhibition.
The static display gives visitors the opportunity to view the aircraft close up.
AIRCRAFT MANUFACTURER • OEM • FROM SINGLE ENGINE AIRCRAFT TO BUSINESS JETS • HELICOPTERS AND ADVANCED AIR MOBILITY AIRCRAFT • EVTOL • MRO • FBO • TRIP SUPPORT • COMPLETION & SERVICES • OPERATOR • CHARTER • AIRPORT EQUIPMENT • FLIGHT TRAINING SCHOOL
Aviation Training & Human resource development
Training, skilling, and human resource development are key priorities for the Indian civil aviation sector.
The supply of skilled labor has simply not kept pace with the industry's rapid growth, whether for pilots and air crews, ground staff, or airport management personnel. There are opportunities for education and training service providers across the industry, and there is untapped demand for innovative training simulators. India's primary educational institution for the industry, the Rajiv Gandhi National Aviation University, is exploring collaboration with foreign and domestic partners. The country's flight primary training institution, the Indira Gandhi Rashtriya Uran Akademi, continues its efforts to improve flight and ground training of commercial pilots. India's National Skill Development Council has a separate entity called the Aerospace and Aviation Sector Skill Council to identify needs and explore conducive environments to develop educational curricula.

There are only 32 approved Flight Training Organizations in India, which struggle to supply trained pilots and meet the demand for 1,000-1,500 pilots per year.
Air Expo India will promote aviation to future generations by focusing on the latest trends, training and recruitment within the aviation industry – Empower through training.
Air Expo India provides an opportunity to learn about careers, exchange ideas, ask questions of industry experts and enjoy a hands-on experience within the aviation and aerospace industry.
Students will be provided the opportunity to learn about placements and job opportunities across: Flight School Academies, Maintenance, Hostesses, Stewards, Security in aviation, Airport operations.
Last year, the Indian government released its "Drone Rules 2021," with a vision to make India a global hub for R&D, testing, manufacturing, and operations.
In addition, the government offers benefits to encourage the local production of drones and its components through a range of incentive schemes.
Experts estimate India's UAS market to be valued at $1.8 billion by 2026.The UAV and drone sector will continue to be a key growth factor in creating next generation technology.
We are entering into a new age within the Aviation Industry. With more enhanced technology we are improving the way we live our lives and conduct business. Drones have quickly become a very economical solution for business owners. Future technology and innovations will rely on the drone sector as its growth in the industry is of key importance.
Air Expo India is a great opportunity to meet the global drone community and learn about UAV technology solutions.
Maintenance, Repair, and Overhaul (MRO)

The Indian government has revised its MRO policy in an effort to increase the ease of doing business and to make India a global leader in the MRO sector.
Approximately 90 percent of India's MRO activity occurs outside of India, predominantly in Sri Lanka, Singapore, and Malaysia.
Local capabilities are at a nascent stage but with the potential to grow quickly. Efforts are underway to make India a regional hub for MRO services, given its advantageous geographic location between Europe and Southeast Asia and its proximity to the Middle East. India's growing fleet of aircraft will also demand an increase in maintenance services and MRO facilities.
According to industry experts, the segment is expected to increase by $4 billion by 2031.
Safety and Security: Obtaining innovative aviation safety and security systems and equipment is a top priority in India, particularly with respect to India's efforts to develop greenfield and brownfield airports across the country. Growth in this sector is anticipated to be strong, and along with airport development itself, there is a nexus with India's efforts to develop multi-modal logistics hubs across India.
Navigation and Air Traffic Management Systems

With the launch of the GPS-Aided GEO-Augmented Navigation system, India became the fourth country in the world to implement satellite-based navigation systems and began utilizing satellite-based Automatic Surveillance-Broadcast services in 2019.
India has approximately 90 helicopter operators, including non-scheduled operators, private companies, state governments, and public sector utility companies, comprising a combined fleet of 280 turbine helicopters – a fraction of the 14,000 helicopters in service in the United States.
Please enter your details below, the team will get in touch with you.
Your details will never be shared with anyone else.